---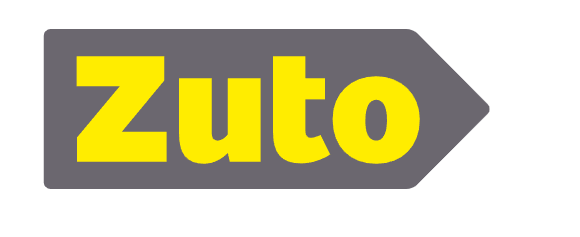 ---
Welcome to my Zuto Review.
It's important to understand your options when it comes to car finance.
Approximately 72% of car finance users taking the first finance option offered to them by the car dealership 1.
By being here, reading this review you must be one of the 28%.
You understand that exploring different lending options will make sure you get the best deal available to you… and save you from losing money.
That's exactly what a good car finance broker will do for you.
The trouble is.. how do you find a good one?
Too often brokerage companies let themselves down with either pushy sales tactics or poor communication.
These are the two opposite ends of the spectrum.
Few companies find the middle ground with strong communication and a smooth, effortless sales process.
The last thing you want is to feel you are being "sold" to.
Now luckily I know a thing or two about car finance.
So my job in this article is to unpick the complexity of choosing a car finance broker or lender. And to give you the details about Zuto.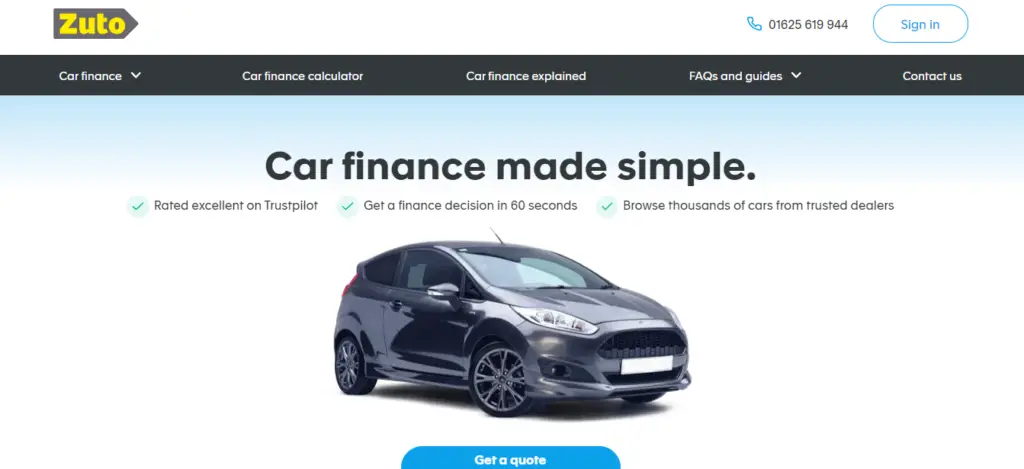 ---
What is Zuto?
Zuto is a large online car finance broker in the UK.
They were founded in 2006 and have their circa 350+ staff members located between offices in Manchester and Macclesfield.
Zuto can arrange Hire Purchase (HP), Personal contract purchase (PCP) and personal loans.
Once they have assessed your eligibility, a dedicated advisor will walk you through the best deal available to you.
Although their bread and butter is to finance cars. They can finance motorbikes, vans, campervans and other vehicles.
You might have your new car lined up already? That's great, Zuto can help as long as the car meets their lender and dealer criteria.
Or you might be looking to have finance secured in principle before finding your next dream car? That would be no problem, as Zuto help customers like you on a daily basis.
Zuto can even help if you have bad credit, although finding a lender will be harder and the rates you can access will be higher.
How Does Zuto Car Finance Work?
Zuto Car Finance works in the same way as all the large, online car finance brokers. This involves an initial qualification process, followed by an account manager helping you pick the best deal available to you.
Let's go through it in detail.
Application Process
Zuto have broken down securing car finance into 3 easy steps: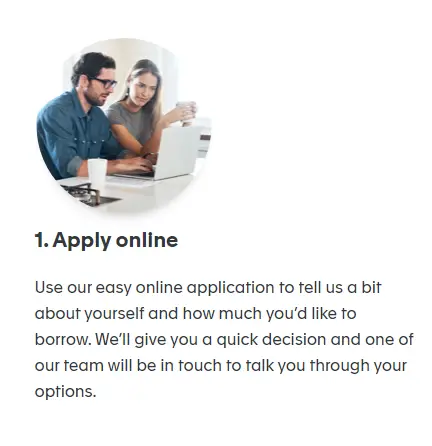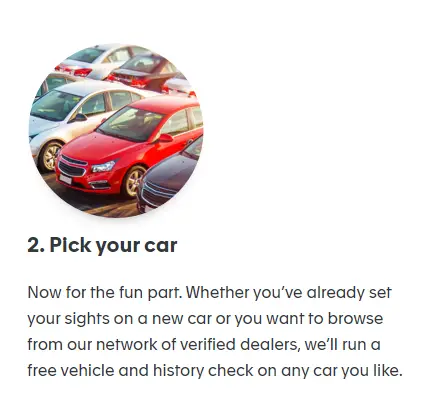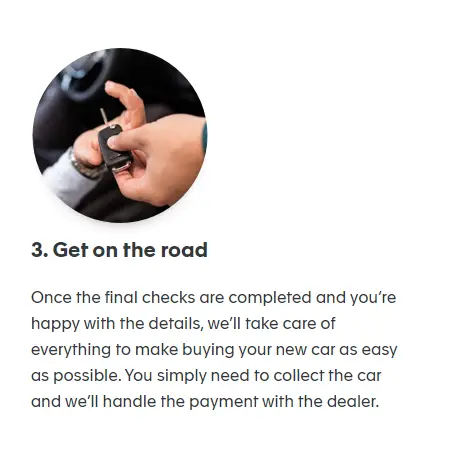 The initial online application takes only 60 seconds to run through.
You are then assigned an advisor who is with you throughout the rest of the process.
Whether you've already picked your car or not, Zuto can help.
Once you have selected the finance option that is right for you, the advisor will even help find your perfect car from the dealership – carrying out a free vehicle and history check on the cars that you like.
At this point, you've picked your new car and finance is in place. All that is left to do is for Zuto to handle the payment to the car dealership.
Why Zuto?
Now all of this is great. But the fact is that most of the large online car finance brokers can offer the same services, and access enough lenders with competitive rates.
The difference, for me, comes down to the ease of application, level of communication, complaint handling and aftercare.
I have conducted some research on customer's experience with Zuto:
90.1% of Trustpilot reviews were positive
Of the 9.9% of Negative reviews:
40% complained about communication during the application process
35% complained about communication during the aftercare process
72.5% of negative reviews publicly responded to by Zuto on TrustPilot
I would be lying if I said I wasn't a little surprised at the amount of negative responses, and just how negatively they were written by the customers.
Look, I get it. The odd negative review is hard to avoid. And 90% of reviews were positive so it's not all bad.
But, the reoccurring theme of poor communication when problems start to arise (both in the application process and during aftercare) is really worrying.
Poor communication during the application is the more surprising – as this is the fee-earning part of the process for broker companies like Zuto.
Poor communication during the aftercare is more common (but definitely NOT acceptable). Some companies will allocate far les focus and resources to the aftercare part of the process as they have already made their money.
One potential reason for these reoccurring negative reviews when problems arise is:
The Zuto staff are too heavily incentivised by sales. So, when problems arise and they sense they're not going to get their sale, they move on to a more promising "lead".
Zuto Reviews
Zuto have the most reviews on TrustPilot, compared to other car finance brokers and lenders.
But Zuto reviews are at an average rating of 4.6 /5 which is below the level of their main competitors.
Read some of the recent Zuto reviews below: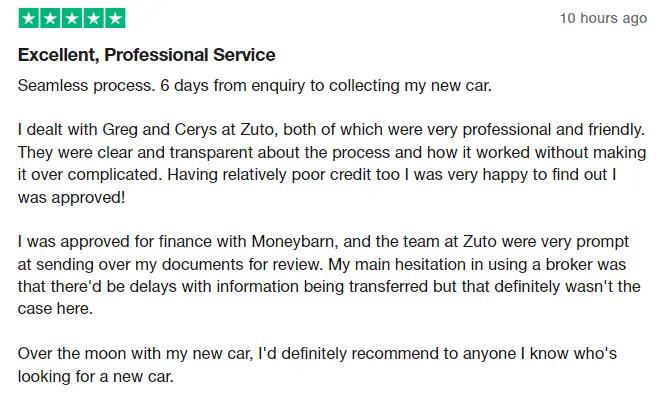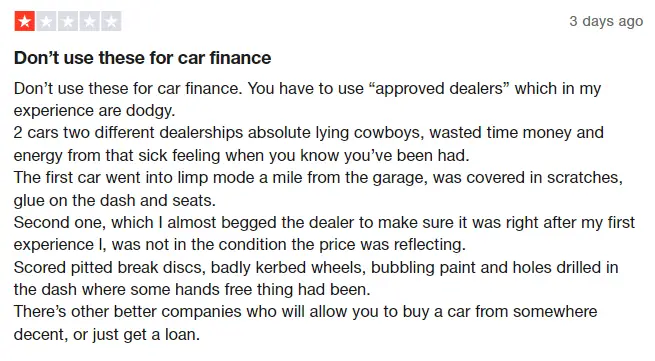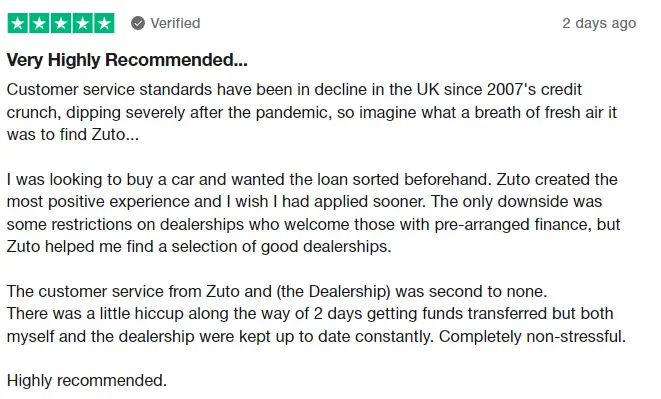 Pros & Cons
Let's get this straight, Zuto are a good company.
Most of their customers have a good experience.
But, they do have some areas to work on.
So, check out the table below for my Pros and Cons.
Zuto Reviews FAQs
Is Zuto Legit?
Yes, Zuto car finance is legit. They are one of the largest car finance brokers in the UK market and are the preferred finance partner of Autotrader. Overall, most customers have a positive experience with Zuto, however, on digging deeper, negative customer reviews have been fairly consistent. Poor communication in aftercare. In 40 negative reviews over a one month period, 42.5% (17/40) of negative reviews mentioned poor communication during the application process. 35% (14/40) mentioned poor communication in aftercare.
Is there a Zuto Credit Check?
Yes, there will be a hard credit check when you proceed with your chosen lender's application. However, the initial brief application to compare quotes will not involve a hard credit check, and so it will not leave a footprint on your credit profile.
What are the range of Zuto cars?
The range of Zuto cars is not limited. Zuto have verified dealers but they claim you are free to buy a car from any reputable UK dealership. Their own list of approved dealers are there give you added peace of mind.
Does Zuto Van Finance exist?
Yes, Zuto offers Van Finance. However, their website doesn't have much information on vans at all. There are more specialist van finance brokers and lenders who may be more suitable for arranging van finance.
Our Verdict
Overall, Zuto are one of the largest online car finance brokers in the UK.
This is no mean feat as car finance is a competitive industry.
Their application process and the services they offer are not unique in comparison to their competitors. However, most of the customers they serve are satisfied with the service.
Having said that, there is a percentage of customers who have experienced problems.
Notable reoccurring problems include poor communication during the application process and poor aftercare provided to customers.