---
---
Welcome to my Quick Car Finance Review.
I've had my fair share of experience over the years when it comes to car finance.
I've made every mistake in the book..
Falling for high APR finance deals at car dealerships was probably the worst.
I've overspent £1000s in interest and arrangement fees. It was a nightmare.
I've also tried out a few online brokers to get me the best deal available at the time. This was much better. 
But my experience has varied depending on the broker I've used. Some good. Some BAD… really bad. 
My process for deciding who to use for car finance has been refined now. I have it down to a fine art. 
I know it can be difficult to decide who is best for you.
That's why I've put together this Quick Car Finance Review.
Because I don't want you to suffer the consequences of going with a sub-par finance lender or broker.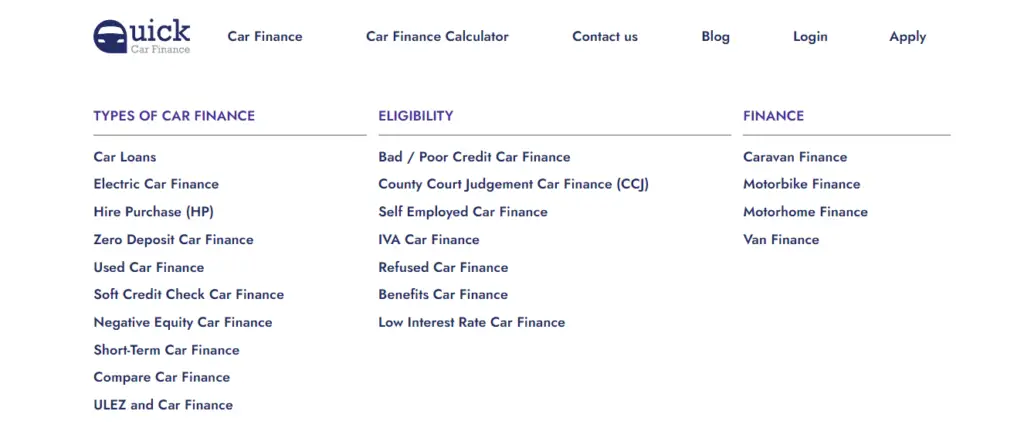 URL: www.quickcarfinance.co.uk
---
What is Quick Car Finance?
Quick Car Finance is an online car finance broker based in Bournemouth, UK.
They were founded in 2018 and have been one of the top UK car finance brokers ever since.
They cover a really wide range of specialisms. You can see this from the snapshot of their website above.
From cars, motorbikes, vans and even motorhomes, Quick Car Finance cover it all.
The chances are, if you're looking for car finance, they can assist.
Quick Car Finance can even help if you have bad credit, or have an IVA on your credit record.
There are situations where going directly to a lender could be beneficial.
But for those that prefer to talk through their options with someone experienced in the industry, going with a good broker will be better for you.
Of the finance brokers out there, Quick Car Finance are up there with the best.
What makes them stand out is their:
Quick Lending Decision (get your quote in minutes!)
End to End buying Experience (from lending decision to help securing your car from the dealership)
How Does Quick Car Finance Work?
Quick Car Finance have clearly put a lot of thought into the process their customers go through. The process is extremely smooth with a "customer first" feel to it.
Let's go through it in detail.
Application Process
They have simplified getting car finance into 4 easy steps:
The initial online application takes no longer than 2 minutes to run through.
You are then assigned an advisor who is with you throughout the rest of the process.
The advisor will help you compare quotes from different lenders. This can put your mind at ease that someone who is experienced in the industry has your back.
Once you have selected the finance option that is right for you, the advisor will even help find your perfect car from the dealership.
This is where Quick Car Finance stand out with their end to end customer experience.
Most lenders will secure the finance for you. But the service will end there. You'll have to do the rest yourself.
So, if a full end to end service is what you're after, Quick Car Finance should be your first choice.
Why Quick Car Finance?
In the past, I've been sold high APR finance deals at car dealerships.
Notice how I say I was "sold". The car salesman I have dealt with are often very good at that.
What they haven't been so good at is customer service and support.
I've often felt neglected and "sold to", once I've signed the finance contract at the dealership.
It has all too often felt like a race to get my pen to paper.
This is why having an end-to-end dedicated advisor with Quick Car Finance is great.
Having someone who can answer all of your niggling queries as you go through the application is a massive relief.
If you're like me, you like a second opinion when making decisions.
Having an experienced advisor to lean on when comparing quotes has helped me make quick, informed decisions without overthinking.
Working with your advisor will also give you peace of mind that you are getting the best deal you can.
Quick Car Finance work with a wide range of lenders so you can be assured that you'll receive the most competitive rates available to you.
Sadly this hasn't been my experience when arranging finance with car dealerships.
In short, I believe the key benefits of Quick Car Finance are:
Quick Lending Decision
End-to-End Service (from requesting quotes to picking up the keys at the dealership)
Try to Help Everyone (even those with bad credit, a CCJ or an IVA)
But, don't just listen to me.
Check out the opinions of their other customers below. They currently have over 3200 google reviews with a ranking of 4.9/5.
Quick Car Finance Reviews
Even though they only launched in 2018, Quick Car Finance have plenty of customers raving about them..
Over 3200 google reviews at an average of 4.9 / 5 is no mean feat. And another 1100 reviews on Trust Pilot on top of that.
Read some of the recent quick car finance reviews below for yourself: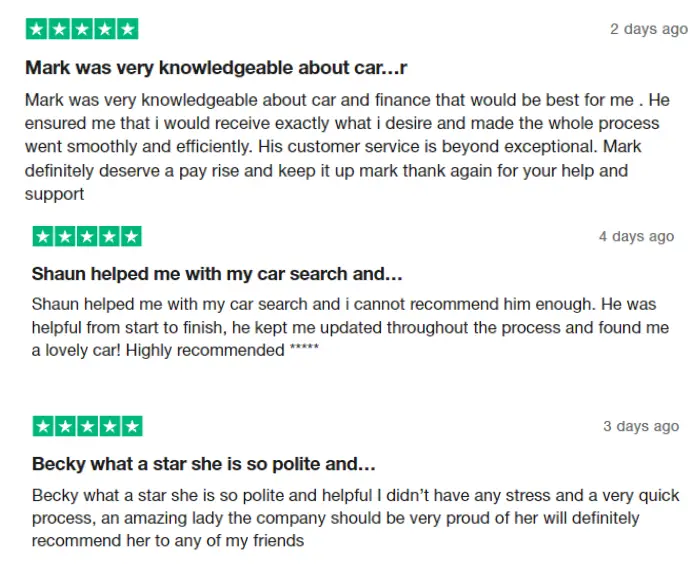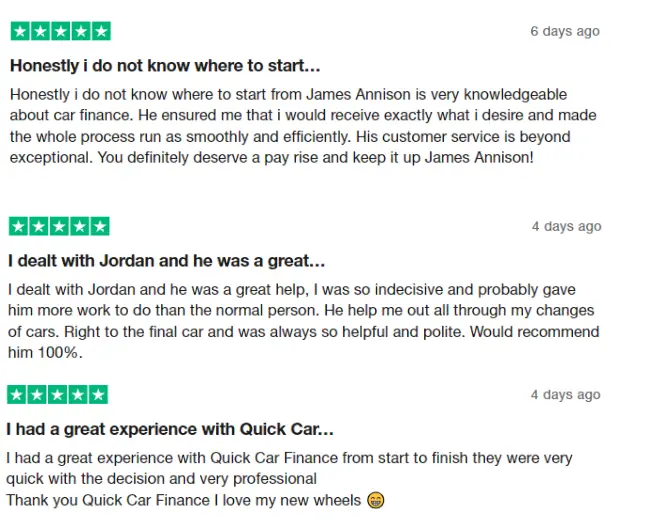 Pros & Cons
Let's get this straight, I'm a big fan of Quick Car Finance.
However, I like to take as balanced a view as possible.
So, check out the table below for my Pros and Cons.
Quick Car Finance Reviews FAQs
Is Quick Car Finance Legit?
Yes, quick car finance is legit. They are one of, if not, the best car finance brokers in the market. Their fast lending decisions, end-to-end service and ability to help the vast majority of drivers is what sets them apart. Their circa 3200 positive google quick car finance reviews and 1100 trust pilot reviews really speak for themselves.
Is there a Quick Car Finance Credit Check?
Yes, there will be a Quick Car Finance credit check when you proceed with your chosen lender's application. However, the initial brief application to compare quotes will not involve a hard credit check, and so it will not leave a footprint on your credit profile.
How do I get a quick car finance quote?
Simply click on the link here and answer the basic questions. This will take no more than a couple of minutes. And it will not affect your credit rating.
What are the range of quick car finance cars?
The range of quick car finance cars is not limited. Because they work with a wide range of lenders who are accepted at dealerships across the UK, you should be able to arrange finance on most cars through quick car finance.
Our Verdict
Overall, Quick Car Finance offers one of the best end to end services for car financing currently available on the market.
I recommend that if you are looking to compare car finance quotes from multiple lenders, you should get the help of the guys at quick car finance. Their knowledge and customer service is top tier.
If you prefer to go directly to one lender, then maybe Quick Car Finance isn't for you (they are a broker not a lender).
But, if that isn't you. And you like to compare quotes from several lenders, while benefitting from the knowledge and experience of experts. Then Quick Car Finance is for you. You won't be disappointed.
---