In this super comprehensive review we'll cover everything you need to know about the Autel Maxicom MK808 scanner.
This scan tool offers a comprehensive solution for diagnosing car problems for professional mechanics and car enthusiasts alike. Its user-friendly interface and light weight tablet model make it easy to navigate through various functions and perform maintenance services when working on your car.
The bi-directional diagnostic scanner has all the basic diagnostic functions that you would expect of an OBD-II scan tool at this price point.
The device also has a wide range of advanced functions that the average car enthusiast would not get round to using if you are only working on a small number of your own cars.
Autel MK808: At a Glance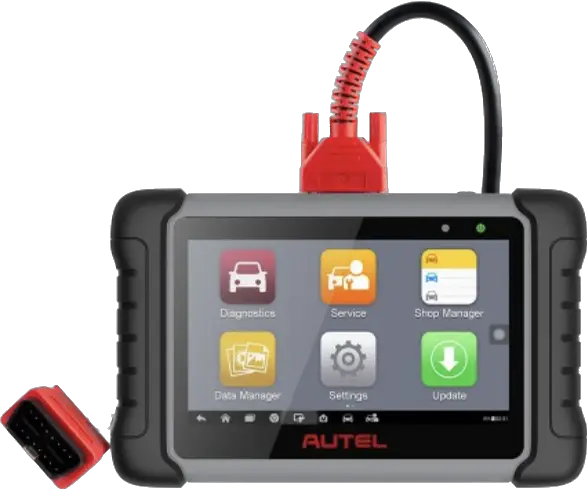 Autel have a range of scan tools and the MK808 sits near the top of the range. Testament to the ease of use & the wide range of functions available, the reviews of the scan tool are extremely positive.
MK808 Highlights
Compatibility and Vehicle Coverage
With its extensive compatibility and wide vehicle coverage, the Autel MK808 is like a universal translator for your car's diagnostic needs. This scan tool is designed to work with most 1996 US-based, 2000 EU-based, and newer vehicles.
Whether you have a Vauxhall, Ford, Volkswagen, Nissan, Mercedes, Peugeot, Audi, Toyota, BMW, Citroen, Honda or Hyundai – the Autel MK808 has got you covered.
From reading/clearing codes to live data streaming and special reset service functions like oil reset and EPB reset – the Autel MK808 can do it all.
The Autel MK808's compatibility with multiple protocols ensures that it works seamlessly with any OBD2-compliant vehicle. It eliminates the need for multiple scan tools and provides accurate results quickly.
So whether you're working on a simple oil change or tackling more complex issues in your car's systems – the Autel MK808 is up to the task.
Functions
The Autel MK808 has a comprehensive range of both diagnostic and special service functions. We dive in to more detail about the functionality next…
Diagnostic Functions
One notable function of the Autel MK808 is its IMMO function, which allows you to check and reset the IMMO sensor in your car. This is particularly useful if you're experiencing problems with your vehicle's immobilizer system.
In addition to the IMMO function, the Autel MK808 offers a wide range of other diagnostic capabilities. It can check and reset simple things like oil life and reset lights, as well as more advanced systems like the battery management system, EPB/BMS/SAS/DPF systems, brake system, transmission, HVAC system, wiper system, emission system, fuel system, headlights, and brake lights.
With this wide ranging functionality, there are few automotive issues that the scan tool cannot diagnose.
With its user-friendly android interface and fast quad-core processor, navigating through these functions is a breeze. The Autel MK808 also comes with 32GB of storage and a 3,200 mAh battery that provides about 4.5 hours of continuous usage.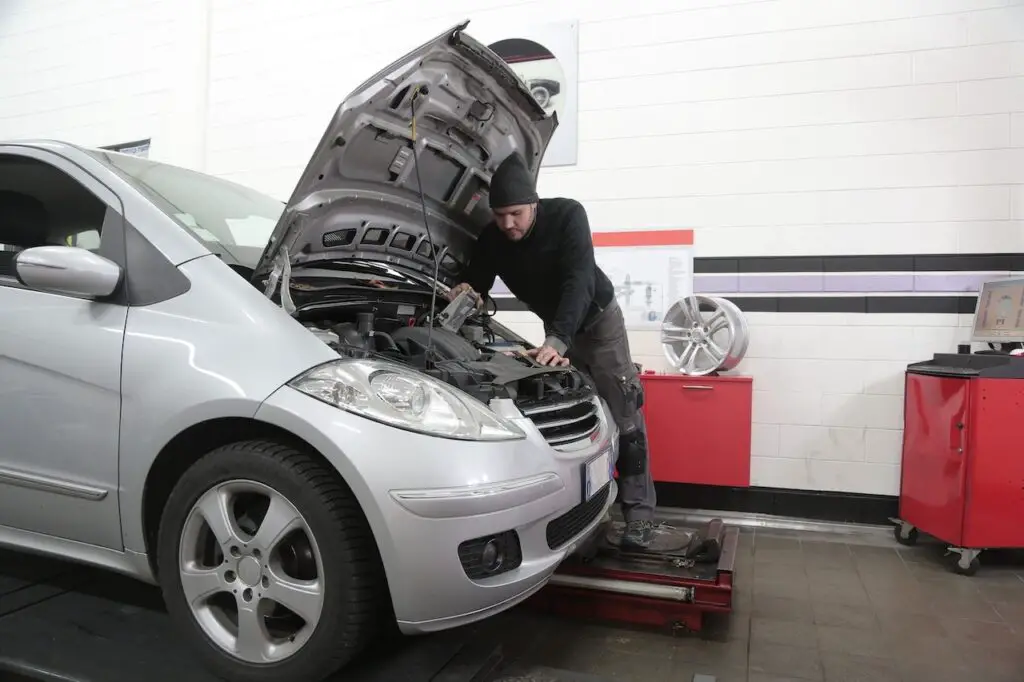 Service Functions
The MK808 offers various service functions such as oil reset, EPB reset, SAS reset, DPF regeneration, and more. These functions allow you to address specific issues in your vehicle's systems and perform necessary maintenance tasks.
The oil reset function is particularly useful for keeping track of your vehicle's oil life and ensuring that it's changed at the appropriate intervals.
The EPB (Electronic Parking Brake) reset function allows you to recalibrate the electronic parking brake system after changing brake pads or discs.
The SAS (Steering Angle Sensor) reset function helps re-align the steering angle sensor after performing wheel alignment or suspension repairs.
The DPF (Diesel Particulate Filter) regeneration function helps clear out any built-up soot in the filter to maintain optimal engine performance.
These special service functions go beyond basic code reading and clearing, allowing you to delve deeper into your vehicle's systems and perform advanced maintenance tasks. With the Autel MK808, you can save time and money by performing these services yourself instead of relying on expensive dealership visits.
So take advantage of these special service functions and ensure that your vehicle stays in top condition for years to come.
User Friendly Interface
Here are some key features that contribute to the Autel Maxicom MK808's user-friendly design:
Large 7-inch LCD screen: The Autel MK808's spacious display provides clear and easy-to-read information, making it simple to navigate menus and view diagnostic results.
Intuitive touch controls: With its capacitive touchscreen, we can easily select options, scroll through menus, and input data with just a few taps or swipes.
Multilingual menu: The scanner supports multiple languages, enabling users from different regions to operate the device in their preferred language.
Wi-Fi connectivity: The Autel MK808's wireless capabilities allow for seamless updates and online communication. We can easily connect it to our home or shop network without any cables or buttons.
These features combine to create an interface that is not only visually appealing but also highly functional. Whether we're performing basic functions like reading/clearing codes or accessing advanced services like SAS reset or TPMS sensor relearn, the Autel MK808's user-friendly interface makes the entire process smooth and effortless.
Conclusion
The Autel MK808 receives extremely positive customer reviews due to its wide ranging functionality, user-friendly nature and the positive results it provides car owners and mechanics with.
Many reviews touch on the fact that, although it is set at a higher price point compared to some basic code readers, it is worth every penny due to the money it has saved through successful diagnosis of complex motor issues.
In general, users praise its ease-of-use and quick diagnosis capabilities, making it a valuable asset for mechanics, casual car enthusiasts, and garage owners. The one-year warranty adds an extra layer of assurance when considering purchase options. Despite these positives, it is crucial to check for compatibility with specific car models before making a final decision to purchase.
If your heart is not yet set on the MK808, read our roundup of the best OBD-II scanners available in 2023.
FAQs
Can the Autel MaxiCOM MK808 program new car keys?
Yes, the Autel MaxiCOM MK808 can program new car keys. It is a powerful OBD-II diagnostic tool that supports key programming capabilities. With its advanced features and user-friendly interface, it is an excellent choice for mechanics and car enthusiasts.
Does the Autel MaxiCOM MK808 support mileage correction?
No, the Autel MaxiCOM MK808 does not support mileage correction. While it may have many impressive features, this tool falls short in this area. It's important to check compatibility and specific functions before use.
Are there any compatibility issues with certain car makes and models?
Yes, there may be compatibility issues with certain car makes and models when using the Autel MaxiCOM MK808. Although, the scan tool covers most well known car brands and models, it is important to check the compatibility of your specific vehicle before purchasing and using this diagnostic tool.
Does the Autel MaxiCOM MK808 offer free lifetime updates?
No, the Autel MaxiCOM MK808 does not offer free lifetime updates. It is important to note that this diagnostic tool has one-year of free updates, but after that period, updates may require an additional fee. After that, the optional yearly fee is approximately £70 which covers all updates and warranty for the device.
What is the battery life of the Autel MaxiCOM MK808?
The battery life of the Autel MaxiCOM MK808 is approximately 4.5 hours of continuous usage.
Can you use Autel MK808 without subscription?
Yes, the Autel MK808 will continue working even if you choose not to update the software. Nothing will be removed from the device The total care program (TCP) covers the latest updates as they roll out as well as warranty for your device.